The shaggiest most densely piled, long pile rug you'll ever find.
Taimani, first quarter 20th century.
This Taimani rug was woven in two separate pieces then the two halves stitched together. The nomadic weavers packed the long knotted pile so tight they managed to weave a rug which defies logic. Sit on this rug and you gently sink into the long soft pile. Usually long piled rugs require either warp faced foundations or loose , multiple wefts between the rows of knots. Not this rug.
Look at the images of the back of the rug and you can see clearly the "water carrier" motif is the dominant and repetitive design device. The colours are a mixture of naturally dyed pile wool, some natural un-dyed wool colours and synthetic dyed colours. The colour palette shows a range of earthy tones from the natural wool colours, subtly combined with dyed wool colours. Look closely at the images and this colour range provides a mesmerising view into a unique nomadic work of woven art. The colours appear to shift at each viewing angle, and in different light the depth of tone and colour gives this rug an appeal like no other. The corded selvage is over-bound with very thick and rustic natural brown wool. The kilim ends are long and intact, with natural dyed light aubergine twining. The rug is in remarkable condition for it's age and has to be seen in person to feel the full effect of it's unique qualities. You simply cannot compare this rug with any other in this group of long piled rugs from central to west Afghanistan.
The sheer volume of wool used is another unique attribute. Weighing in at 23kg, most rugs that cover the same area weigh about 10kg less. This rug requires special shipping arrangements and won't ship via our normal carrier, Australia Post. Please email for more details on shipping.
220 x 199 cm 23kg
Uzbek Goat Hair Rug
Ultra soft dark brown goat hair pile. White wool rhombus outlines and natural dyed light purple highlights.
Probably an Uzbek rug, although these rugs have also been attributed to Kirghiz weavers of the Afghan Pamirs mountains. The generic term Maldari, referring broadly to nomadic pastoralists has also been applied to this group of rugs. Hence, Maldari Rug.
311 x 150 cm 12kg
Uzbek Julkhirs Rhombus Design
Small Julkhirs probably from northern Afghanistan. Red, yellow, green dyed colours combined with natural brown, white and black wool pile. Woven in two strips which were sewn together to form the completed rug. The foundation is cotton. Circa mid 20th Century.
271 x 78 cm 7kg
Uzbek burnt orange and indigo Julkhirs rug
Uzbek Julkhirs with Rhomboid design, fringes of "Russian Chintz".
Natural wool foundation, four strips stitched together.
Indigo outer borders. Behind the sixteen rhomboid shapes that make up the lattice work field design, is a ground of orange-brown, a "burnt orange" colour. Each rhombus is highlighted with dark brown and white natural wool pile, complimented with a bright orange and mid brown, encompassing an indigo central rhombus.
Use of the rhombus is typical of Uzbek Julkhirs rugs and found in untold variations on the theme.
300 x 100 cm 8kg
Bakhtiyari or KURDISH BadANI
Bakhtiyari or Kurdish nomad Badani, Circa 1970
In south eastern Turkey bordering Iran, Kurdish weavers produce a long rug called Badani, the pile is long un-spun sheep wool. These small rugs were probably produced by Kurdish nomads in the Maku area. Some unfounded evidence points to similar small rugs being woven by the Bakhtiyari's, traversing the Zagros mountains in the south west of Iran.
A few years ago I came across this small rug resembling the long Kurdish Badani's. Featuring long un-spun wool, this rug could be used on either the long piled side or the reverse if desired. The ends are completed with slit woven tapestry.
Making the migration to summer pastures over mountains and rivers, similar long piled rugs can be seen slung over the backs of camels and donkeys in a film by Shusha Guppy about Bakhtiyari nomads.
147 x 84 cm
Large Uzbek Rug from north east Afghanistan
Uzbek Large Memling Gul Julkhirs rug
Large Uzbek Rug woven in Four Strips Stitched together 1st Quarter 20th Century. Natural dark brown wool outer border, repeated rams horn secondary border in yellow and white. A third border with repeated rhomboid motif and rams horn inner border in natural cream-white wool pile. The field contains eight large "Memling Guls" set against a deep reddish aubergine ground.
305 x 197 cm 14kg
Russet coloured Taimani rug from Afghanistan
Russet coloured, two Piece bedding rug, 2nd quarter 20th Century – central to west Afghanistan.
Thick, long and soft wool pile.
These rugs from Afghanistan were woven in two halves, with each half being stitched together to form the final shape of the rug.
The repeated lattice rhomboid shaped field is defined by a "running mouse" white border, surrounding simplified versions of repeated vase motifs. Each of these rhomboid shapes has a central "Mah" or Moon motif.
233 x 175 cm 11kg
Tulu Mid 20th Century
Tulu rug with natural wool colours, black, grey and white. Tulu rugs are woven with coarse knots of unclipped wool. There are several rows of wefts in-between each row of knots, which is typical of Turkish Tulu rugs. The long pile knots leave a shaggy appearance on the front surface of the rug. The knots can easily be seen on the back of the rug.
The appeal of Tulu rugs is in the long and soft lustrous wool, woven in diverse sparse designs.
201 x 120 cm 6kg
Arab Julkhirs Circa 1900 Indigo and Red
Early Arab Julkhirs First Quarter 20th Century Long Shaggy Pile
Woven in four strips, dip dyed then stitched together.
Natural saturated indigo dyed side panels with rich madder red central panels. The pile is long and luxurious. Wool foundation.
290 x 100 cm 8kg
Taimani Rug Central Afghanistan Late 19th Century
Finest quality long piled rug, late 19th Century. This rug is a rare example that defines this group of rugs. Woven by a wealthy nomadic group with access to better resources than other nomadic groups in their region.
The natural dyes have been worked by a master of the use of natural pigments and plant dyes.
Dyed colours include saturated bottle green, vivid sky blue to indigo with orange and white contrasts. Intense shades of madder compliment natural brown un-dyed wool.
Woven with the highest quality wool, the nomadic weavers of this rug had access the best quality sheep. Thick long pile.
240 x 185 cm 14kg
Uzbek One Piece Goat Hair Foundation Wool Pile
Uzbek Rug
One piece Uzbek rugs from southern Uzbekistan and the north of Afghanistan are rare compared to Julkhirs rugs which are woven in several strips. This rug resembles early Uzbek Julkhirs one-piece rugs, or so-called Darya Uzbek one pice long piled rugs. The type of rug illustrated here is usually woven with a goat hair foundation and pile of either wool or goat hair.
This example was woven with pile of natural brown and white wool plus orange dyed wool.
230 x 142 cm 8kg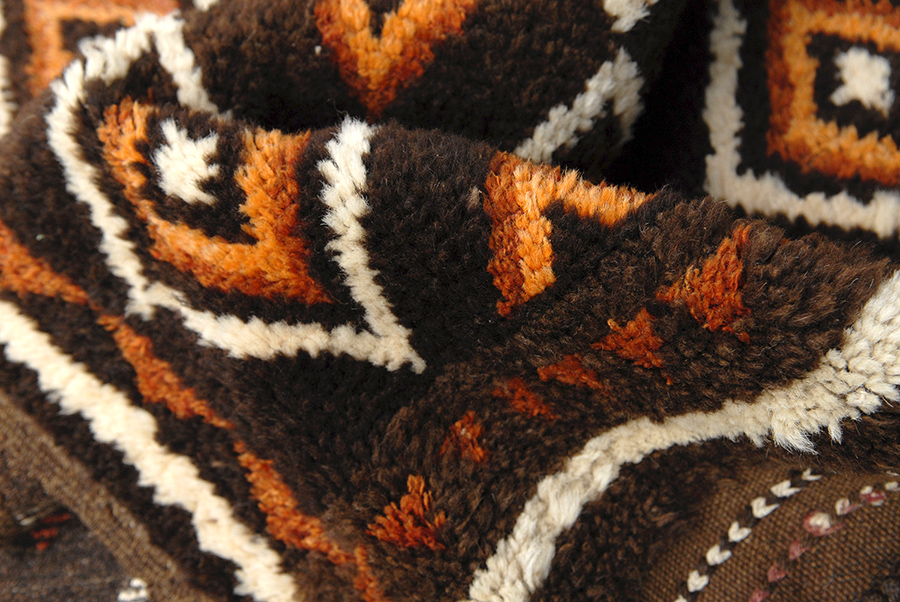 Siirt Kurdish - Woven Felt Blanket Mid 20th Century
Siirt blankets woven today by Kurdish men in the south eastern Turkish town of Siirt in Siirt province were probably produced in surrounding regions encompassing northern Iraq and western Iran as far south as Kuzestan for more than two thousand years. In the last few decades Turkish marketers sold these siirt battaniyesi into markets in Europe and the United States, indelibly linking the town of Siirt with the faux-fur blanket itself. Siirt has become the most recent place of production, by way of association these minimalist fur-like flat weaves with origins in antiquity have recently become known as siirt.
115 cm x 80 cm 1kg
Arab or Uzbek Julkhirs Circa 1940
Woven in five strips, dip dyed then sewn together.
Indigo outer panels, two madder panels, with natural creamy white wool central panel.
The foundation and pile of the central panel was dip dyed in yellow, now faded leaving the natural wool colour. Both the madder coloured strips are dip dyed, the foundation of the two madder panels has some warps of cotton alongside wool warps. The outer two indigo panels are also dip dyed, with a wool foundation and wool pile. Curiously the outer warps on one of the indigo panels are also cotton. This mixture of cotton warps together with wool warps is unusual. Normally the entire foundation will consist of either cotton or wool, not an admixture of both.
Probably from Northern Afghanistan, Kunduz. see Barfield T. The Central Asian Arabs of Afghanistan University of Texas Press 1981
267 cm x 66 cm 5.5kg
Taimani Rug Afghanistan
The pile is very soft and luxurious. The weaver of this rug hand picked the softest wool available.
Yellow "ram's horn" outer border set against a deep aubergine, this border is repeated in a blue and bluish green tone surrounding the main field. There is a repeated rhomboid shaped lattice work filed, defined by a deep aubergine ground. Simplified versions if repeated vase motifs make up each of the rhomboid shapes, in colours of green, blue, yellow and aubergine, alternating against light or dark tones of yellow and aubergine. Each of these rhomboid shapes has a central "Mah" or Moon motif.
Aubergine – Blue – Yellow Taimani or Baluch Bedding Rug.
Central to West Afghanistan Mid 20th Century.
240 x 171 cm 9kg
19th Century Qashqai Rahimlu Tribe Wedding Dowry Rug
 
FINE ANTIQUE QASHQAI WEDDING DOWRY RUG, 2ND HALF 19TH C
RAHIMLU SUB-TRIBE, CLASSIC EXAMPLE, Exceptional Design.

Fine antique rug by the Qashqai tribe of South West Persia. This excellent weaving is probably a wedding dowry piece, indicated by the couple who are drawn in the centre of the rug. This is a particularly fine weaving, which can be attributed to the Rahimlu Taifeh (sub-
tribe) of the Qashqai. The attribution is based on the major border, which is unique to Rahimlu weaving.
The field design is a flowering floral lattice containing many well drawn 'lion masks'. The spandrels, which are reciprocated along the sides of the field, contain both floral design and 'lion masks'. Both ends have unusual end finishes in that the usual checker-board design has been replaced with a chevron design.
The colour palette is excellent with rich, natural, fully saturated dyes. The top of the rug has a heavily abrashed area, as can be seen in the images. The weaving is very fine, and the drawing is excellent; indicating that this rug was woven by a most accomplished weaver. A highly collectable rug in excellent condition.
The condition is excellent, with even wear throughout. The side cords are original and have been rebound.
There are a number of old reweaves to the field, which are well blended and difficult to detect. The ends have been secured and the rug has been professionally hand washed.
2nd Half 19th Century
277 x 168 cm 8kg
Uzbek Julkhirs Rug Samarkand Circa 1910
Typical of early 20th century production, created for personal use or to be sold in the markets in Samarkand. Synthetic dyes. Warps are a mix of goat hair and wool. Long soft pile.
320 x 100 cm 8kg
Arab – Uzbek Julkhirs Circa 1930 with black goat Hair foundation on border strips.
Woven in four strips and dip dyed, natural indigo borders with madder red central strip.
Four strips sewn together. Two dip dyed central strips with cotton foundation, warps and wefts are cotton. Two outer strips of black goat hair foundation - unlike the central strips these are not dip-dyed, meaning that the wool for the pile was dyed first and then woven into the foundation, this is an unusual technique for weavers of Central Asian Julkhirs rugs.
The usual method is to weave the entire strip first then immerse each individual strip into the dye vat before sewing the panels together. Second quarter 20th Century Arab or Uzbek long piled rug, commonly known as Julkhirs or Bear Skin.
320 cm x 106 cm
Arab Julkhirs Circa 1970
Cotton foundation, natural brown and black pile with two dip dyed aubergine panels and a central panel of light cream coloured pile.
Arab Julkhirs Circa 1970. Woven in five separate panels, reminiscent of the late 19th Century versions. Usually by the early part of the twentieth century the number of strips woven was typically reduced to three of four.
280 cm x 93 cm
Arab or Uzbek Julkhirs with Rhombus design, indigo & white cotton borders.
Indigo outer border on two small sections, with white cotton pile for the main outer border.
The foundation, warps and wefts of this Julkhirs rug is woven in cotton. It is not common to find cotton woven into the pile of these rugs, yet this example has white cotton borders and white cotton is used for the pile at the centre of each rhombus design.
Woven in two thin border strips and stitched to the two larger central panels. Behind the fourteen rhomboid shapes that make up the lattice work field design, is a ground of bright orang, brown and light orange. There is one area of low pile down to the base weave along one border. The sixteen repeated rhomboid shapes are laid out in rows of natural and dyed pile colours.
Natural wool colours include, white and dark brown. Dyed wool colours are indigo, a deep russet brown, greenish blue and several shades of orange ranging from ultra bright to a light subdued orange colour variant.
OLD WELL WORN Arab Uzbek Julkhirs with Rhomboid design and indigo borders.
Cotton foundation, four strips stitched together.
Indigo outer borders, woven in thin strips and stitched to the two larger central panels. Behind the sixteen rhomboid shapes that make up the lattice work field design, is a ground of russet browns to aubergine. The rug is "well worn" showing a nice aged patina. The sixteen repeated rhomboid shapes are laid out in alternating rows of natural and dyed pile colours.
Colours : indigo border, aubergine ground, other dyed colours include deep indigo, orange with a russet brown, natural wool colours are white, deep brown and tan.
272 cm x 90 cm
Massive Two Piece Long Piled rug.
438 cm x 189 cm
Nearly all natural wool colours have been used to created the earthy light toned hues of this large two piece bedding rug.
Dark blue - Indigo and yellow dyed wool has been sparingly woven into the pile of this rug, creating a subtle contrast to the natural wool colours of tan, white, brown and grey.
The repeated lattice rhomboid shaped field is defined by a "running mouse" brown and white border, surrounding simplified versions if repeated vase motifs. Each of these rhomboid shapes has a central "Mah" or Moon motif. With a large recumbent S border.
This bedding rug was created in an extra large size, double the length compared to other examples and probably used outdoors for large gatherings. In the right sized room, this rug would be a spectacular compliment to modern architectural styles. Second quarter 20th Century.
438 cm x 189 cm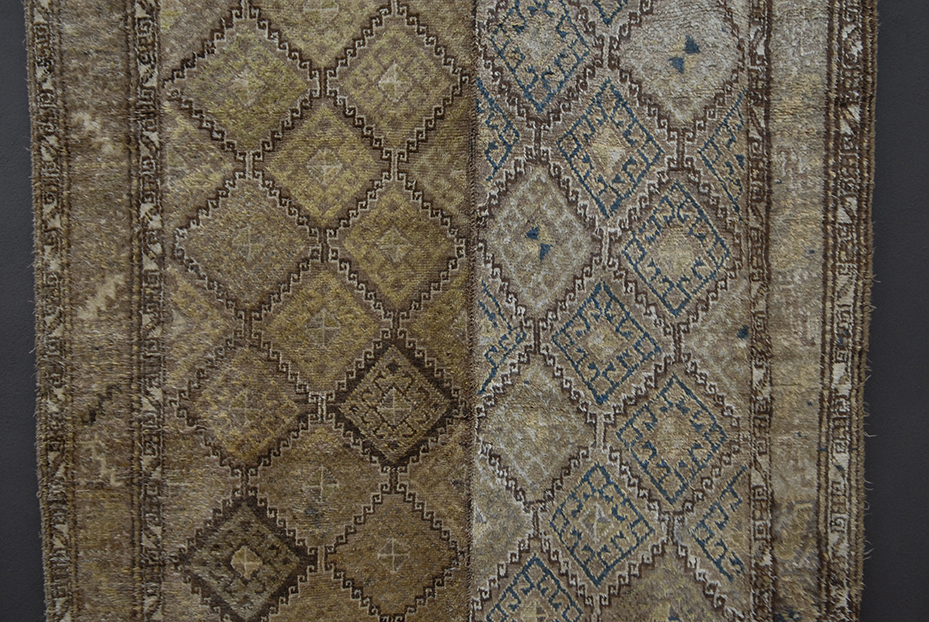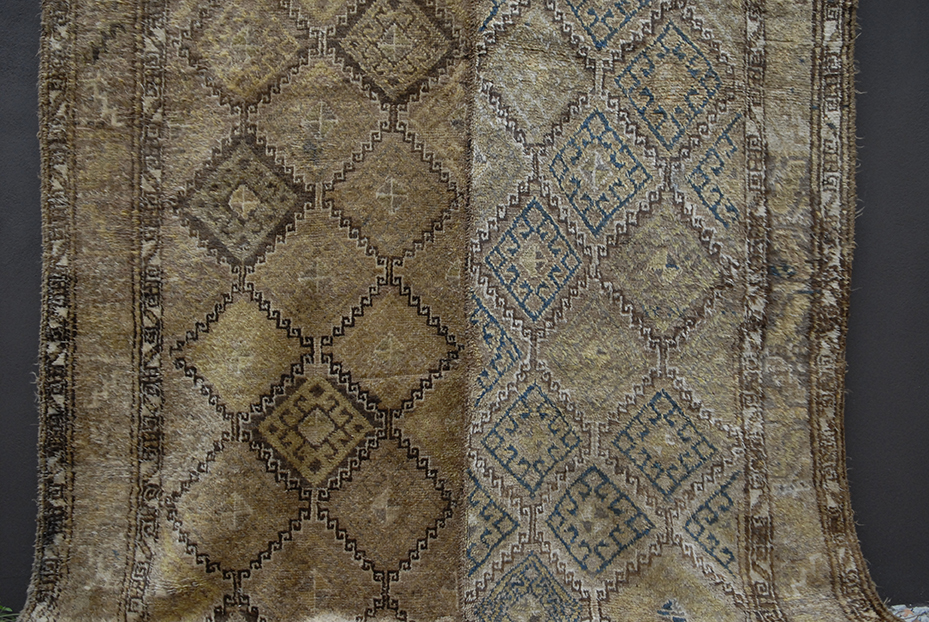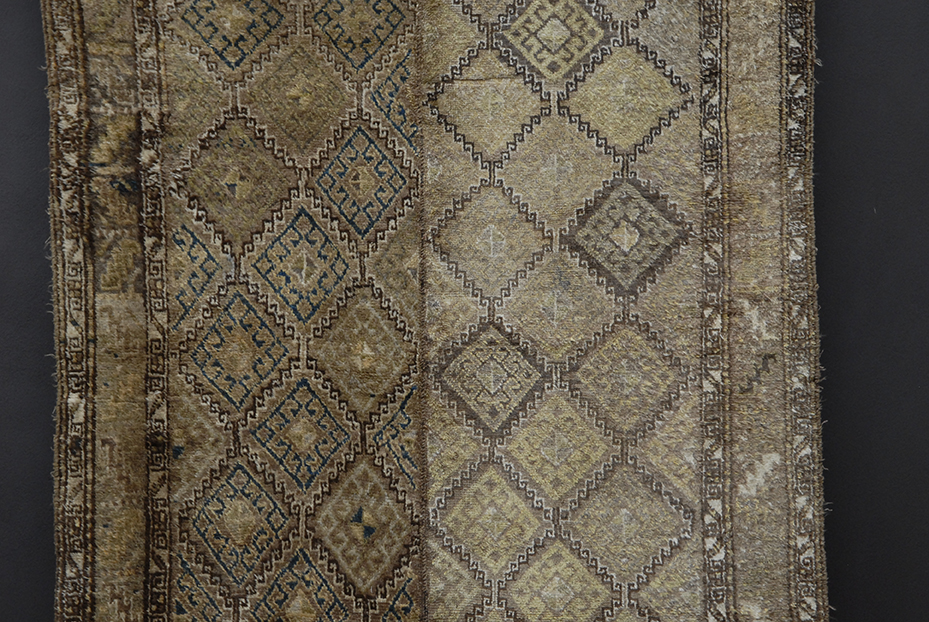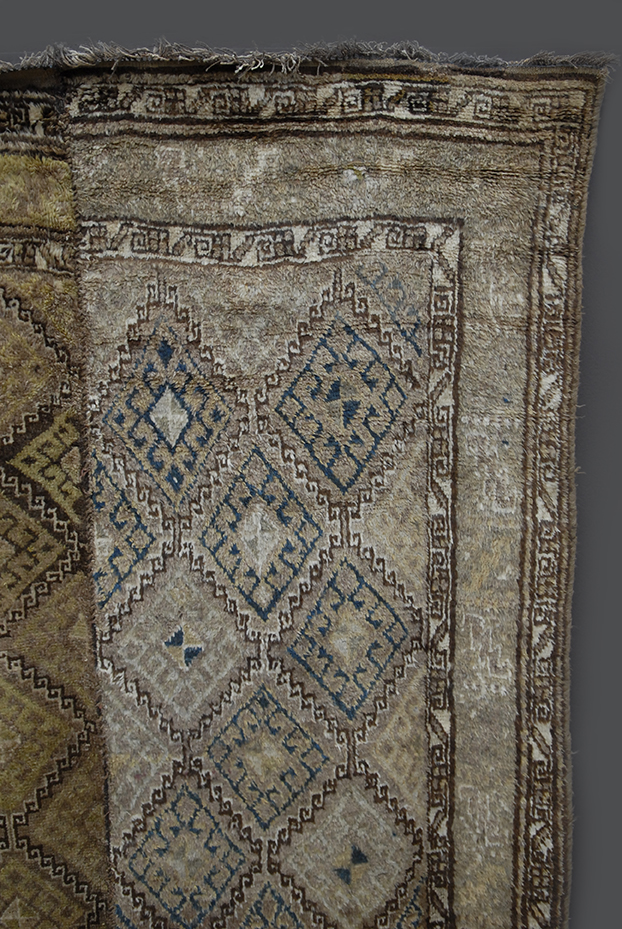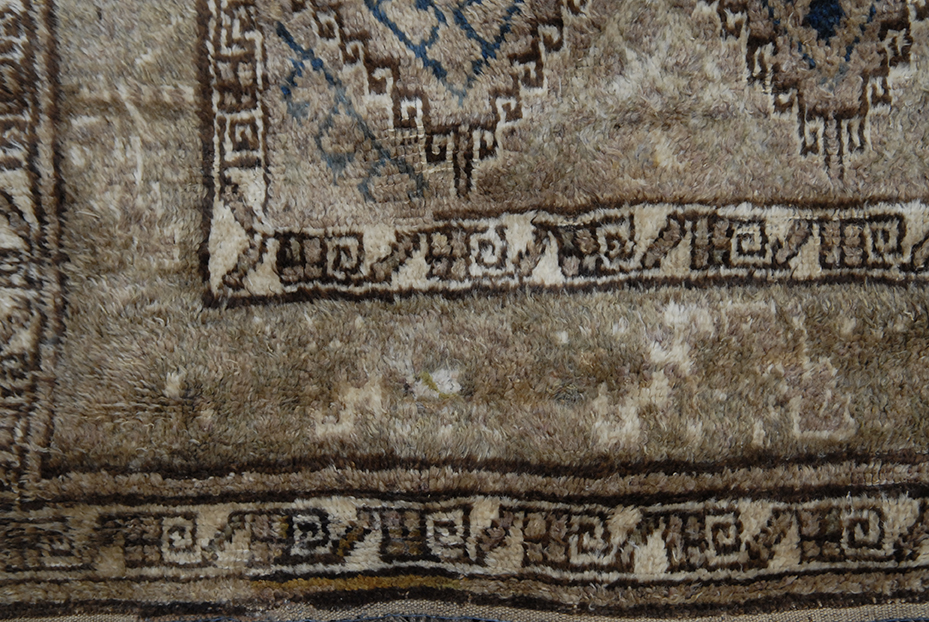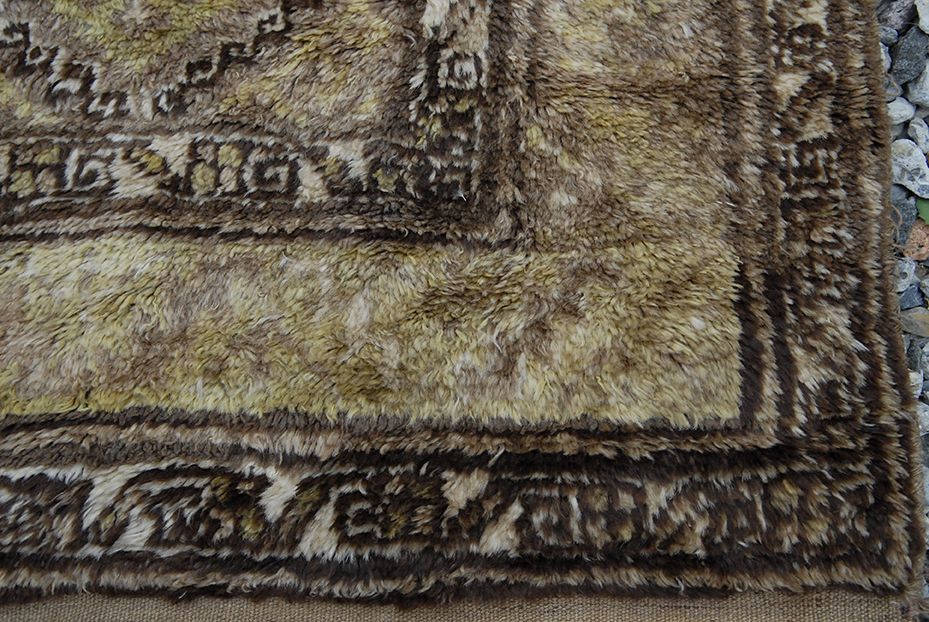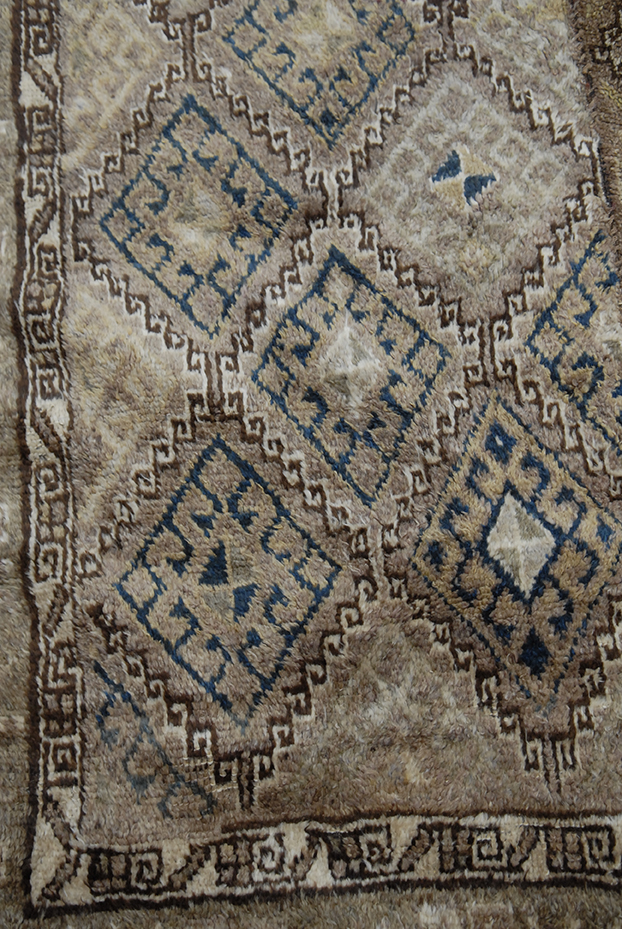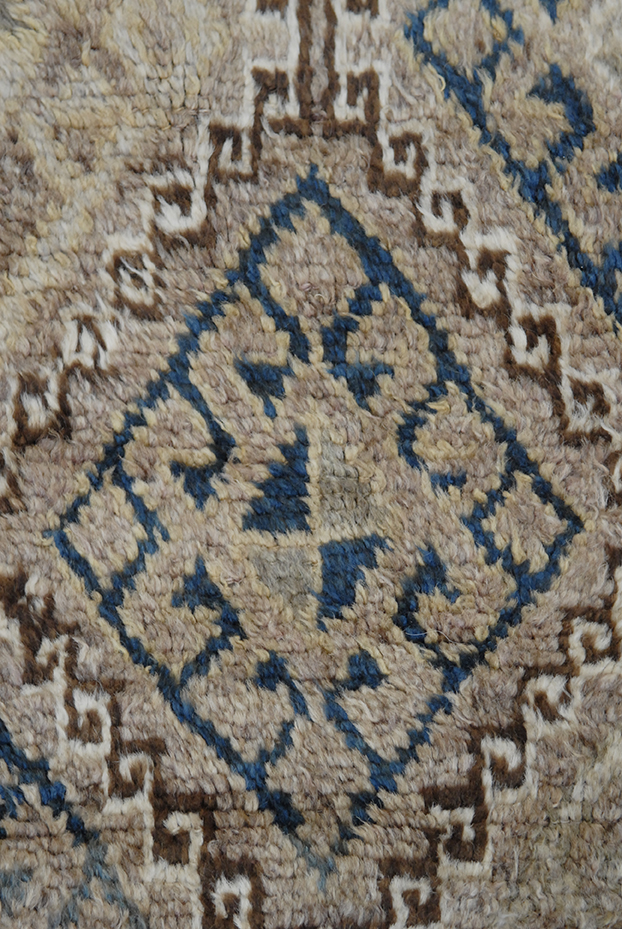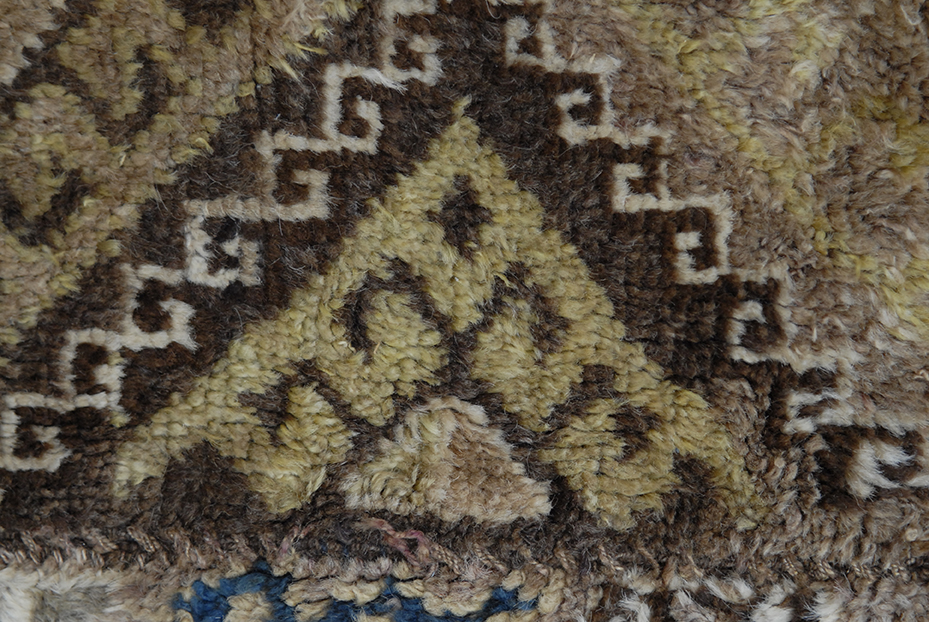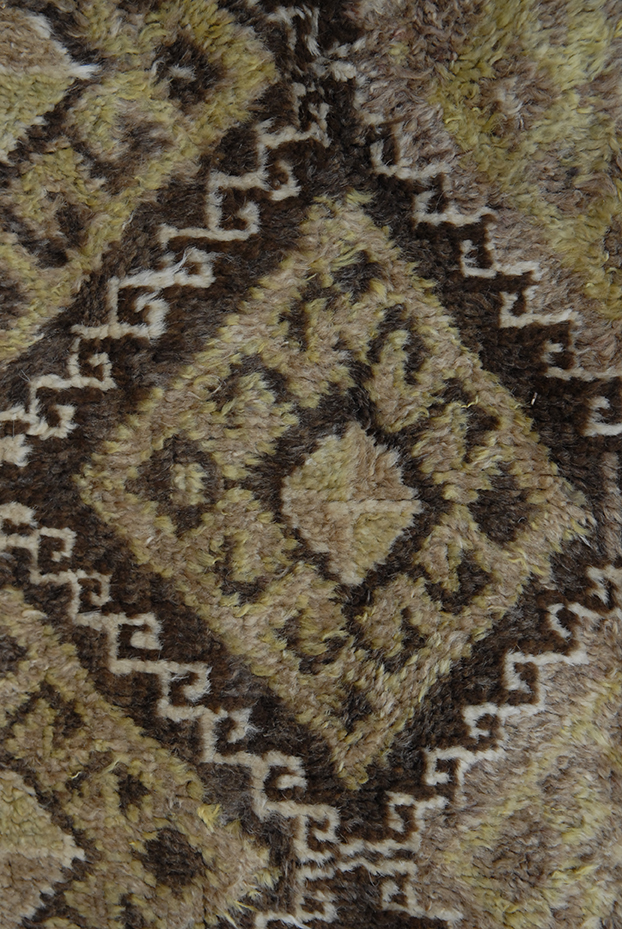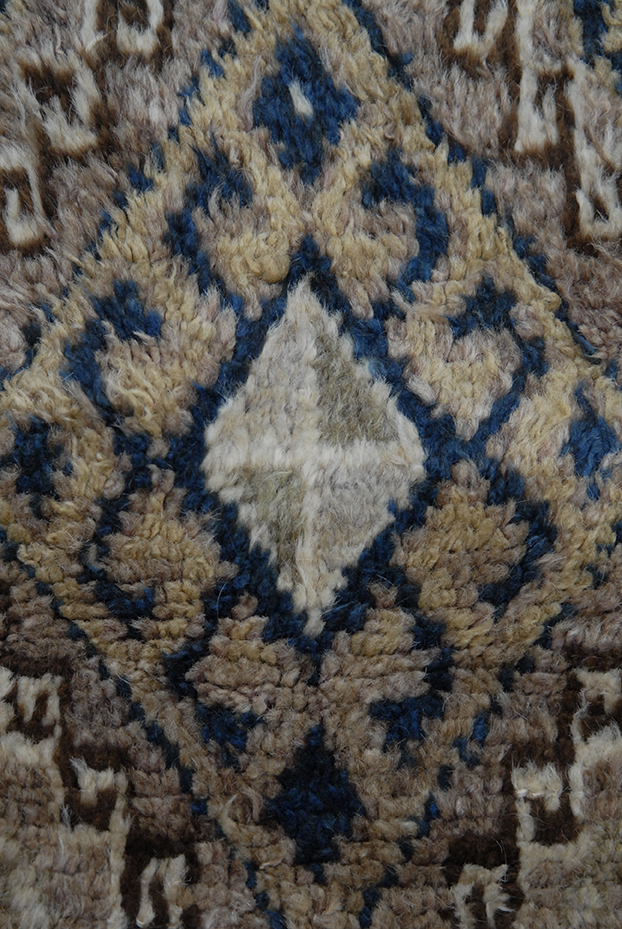 Large Two Piece Orange Taimani Beautiful Kilim Ends.
Probably Ghor province Circa 1930.
Goat hair and wool warps, goat hair over binding to selvage. Vivid orange pile, combined with un-dyed wool colours. Thick lustrous wool, long pile. Wide kilim ends with bold graphic design seldom seen on Taimani bedding rugs, some of the original white and brown twining intact.
170 cm x 230 cm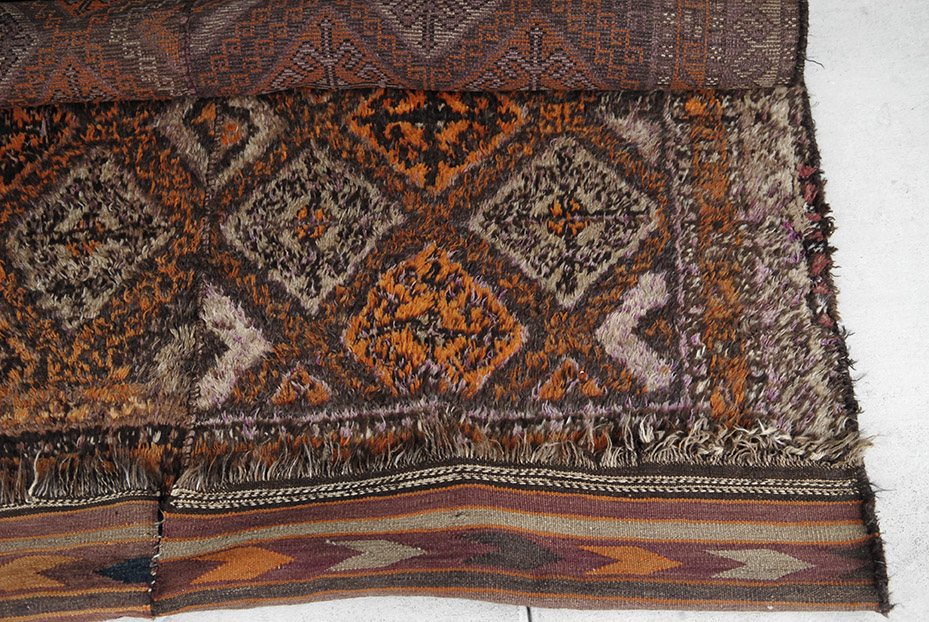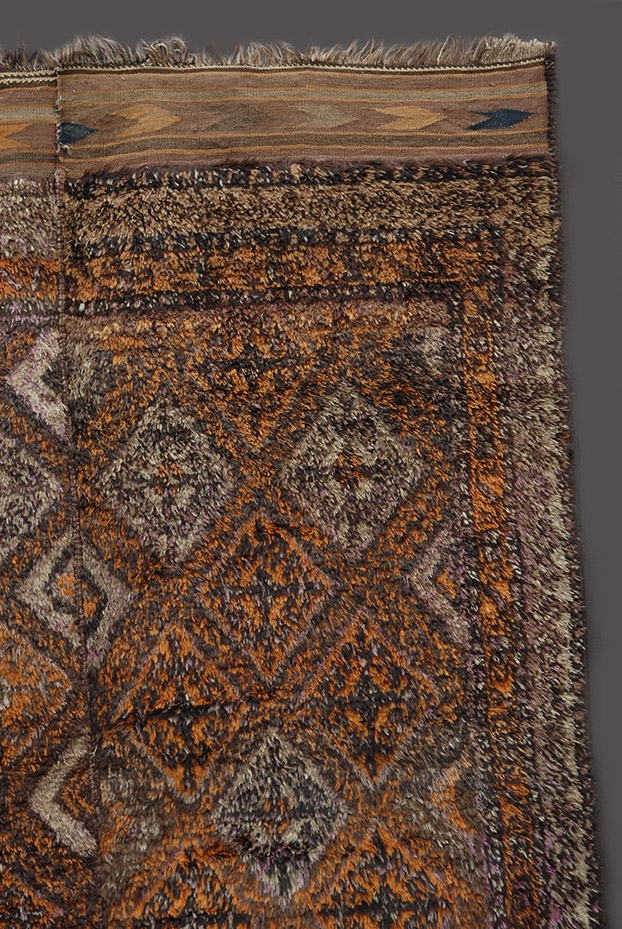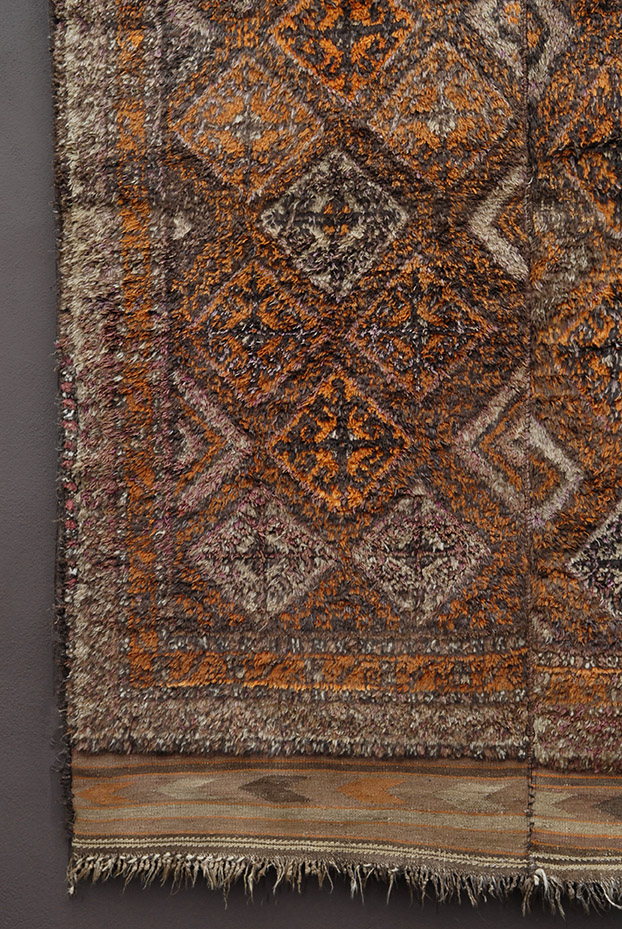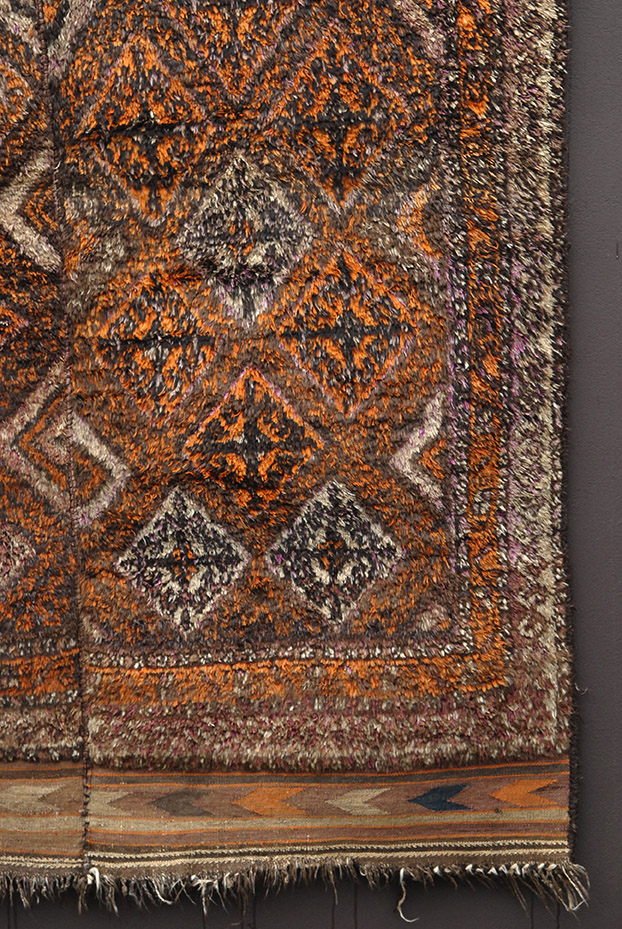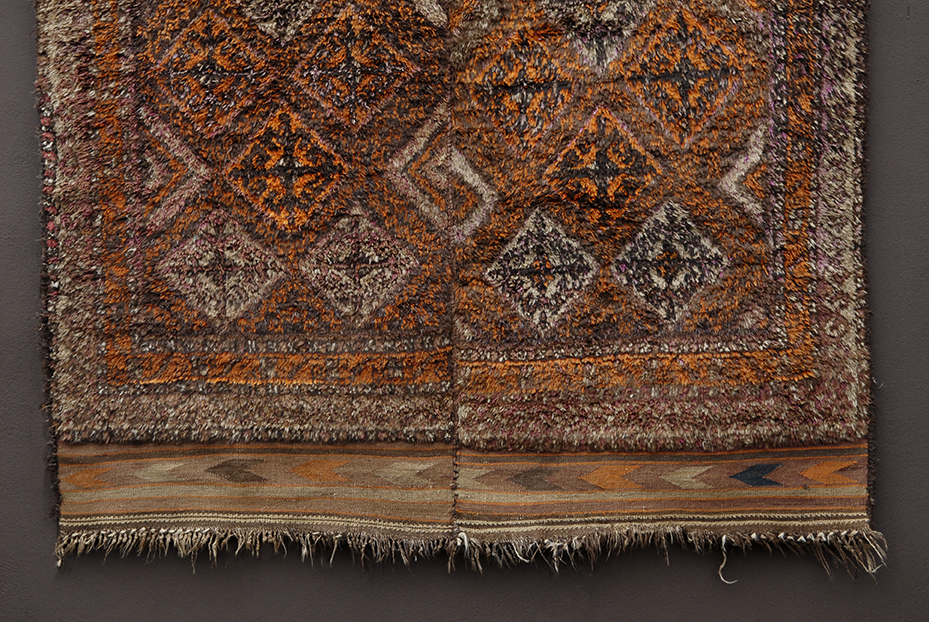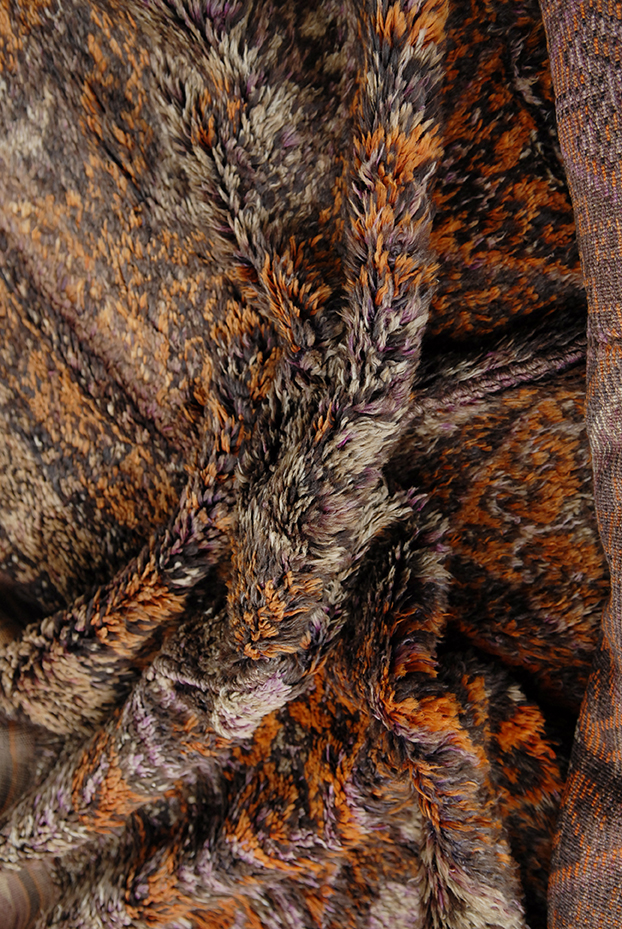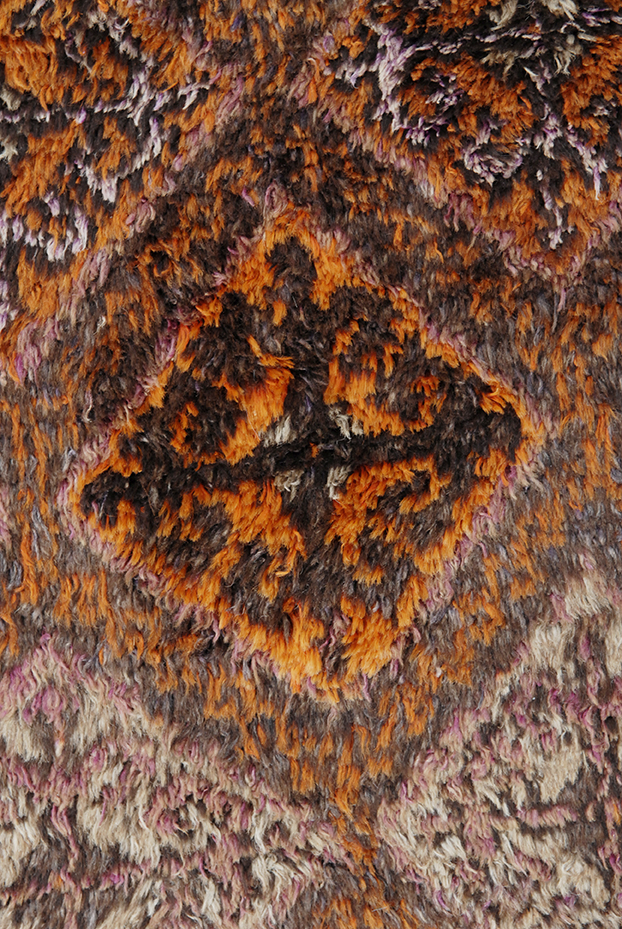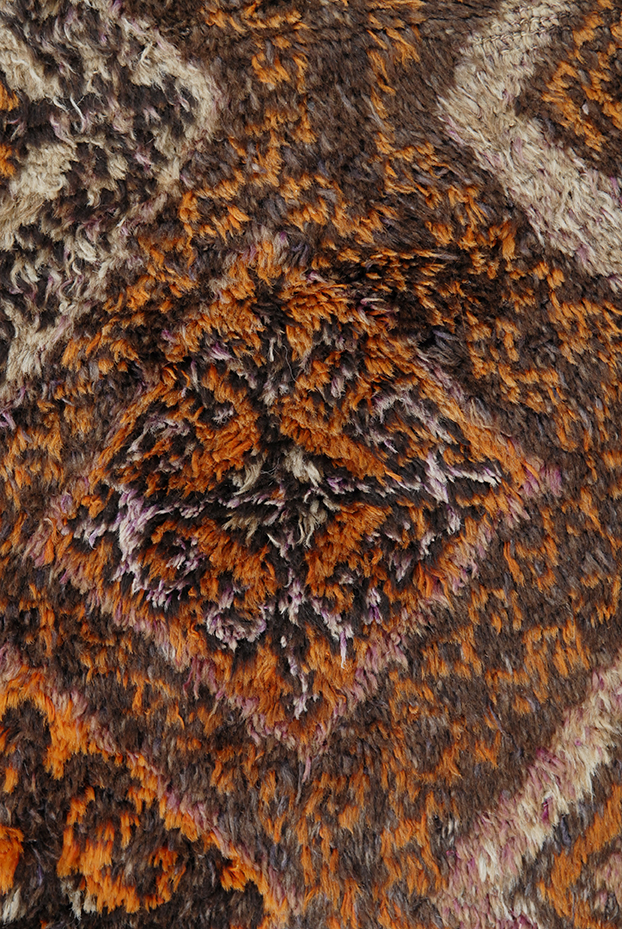 Uzbek Julkhirs Circa 1930
Northern Afghanistan or southern Uzbekistan. Three panels stitched together. Triple corded selvedge overbound with goat hair, normally these Julkhirs are just finished along the outer edges with a simple weft return.
213 cm x 90 cm
Taimani or Baluch two piece bedding rug
Russet coloured rug from central to west Afghanistan, Circa 1930
A two – piece "bedding" rug, old with worn patina.
A repeated lattice rhomboid shaped field is defined by a "running mouse" border, with four main medallions, surrounding simplified versions if repeated vase motifs. Each of these rhomboid shapes has it's own unique motif. The outer border is defined with the "running dog" motif and a secondary border contains a crudely drawn "water carrier" motif.
Uzbek – Arab Julkhirs Long Luxurious Pile
Dip Dyed, woven in four strips sewn together, deep and vibrant natural Indigo borders with two central madder strips.
Circa 1930's This is a long Julkhirs rug.